TSA Profile
Find out more…
I am the founder and the main teacher of The Showgirl Academy.
With a varied dance background I started dancing at an early stage studying tap and jazz. I then fell in love with hip-hop and began teaching it, which lead to the opening of my Bristol based urban dance school Pumped in 2008.
I trained with The Ministry of Burlesque in 2009 and since then have been teaching cabaret styles, my favourite being Charleston with its witty humour and quirky steps. I also manage and choreograph for The Flaming Feathers, the academy's professional performance troupe.
I have worked for various colleges, schools, events, and clubs throughout the UK and this has given me the knowledge and skill to make me a professional and passionate dancer and teacher.
I always bring humour and fun into my classes whilst teaching at the highest possible standard.
To see my qualifications and find out more about my dance background then please Download my CV.
If you have a question or query please don't hesitate to Contact us.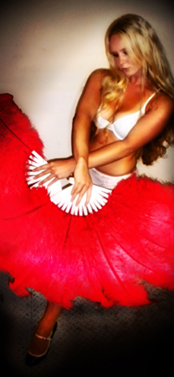 Name: GoldieLox
Position: Choreographer/Dancer
After completing a BTEC in performing arts at college Anna studied urban dance and has worked for various dance companies throughout Bristol and Gloucester.
She has performed at many festivals and shows throughout the South-West of England and is the creator of  Bristol's Big Charity Dance, a successful fund raising event that see's the general public perform in the streets.
Anna also teaches street and commercial dance for Pumped Dance School, is a member of their commercial troupe Fierce and assists with managing and choreography for The Showgirl Academy's professional troupe The Flaming Feathers
Anna is extremely passionate about dance and especially loves Burlesque. She says "it lets you bring out that inner diva that all women know they have, and you can have so much fun with your girl friends in our workshops when you feel so confident and sexy!"
Specialist styles include: Jazz, urban, commercial, burlesque, Charleston, 60's go-go dancing and showgirl.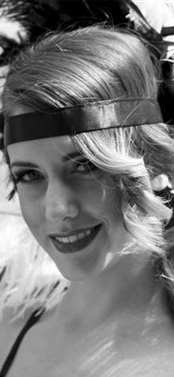 Name: Anna Scholey
Position: Choreographer/Dancer